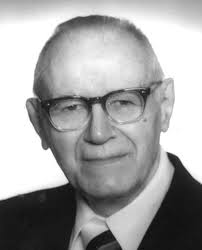 "The final question is, "
'Have I learned the art of offensive warfare?' We have been studying those weapons that are generally included under the heading defensive armor. We have seen, however, that though in physical warfare this description may be entirely adequate, in spiritual combat it hardly reaches far enough. Even truthfulness or integrity—the belt—is not exclusively defensive. It captivates! Righteousness—the breastplate—not only serves as a protection; it also wins the neighbor for Christ, that God may be glorified (Matt. 5:16). The peace that provides readiness for the spiritual battle—the shoes—furnishes both time and energy for invading the enemy's domain and robbing him of the spoils he has taken. Faith—the shield—overcomes the world, recapturing the lost. And salvation—the helmet—sings its way into the enemy's prison-camp, setting the prisoners free. But although all this is undoubtedly true, nevertheless, the most conspicuously offensive weapon, offensive both in physical and spiritual combat, is certainly the sword. Says Paul: '(and take) the sword of the Spirit which is the word of God.'"

William Hendriksen and Simon J. Kistemaker, Exposition of Ephesians, vol. 7, New Testament Commentary (Grand Rapids: Baker Book House, 1953–2001), 279.
Ephesians 6:14–17 (ESV)
14 Stand therefore, having fastened on the belt of truth, and having put on the breastplate of righteousness, 15 and, as shoes for your feet, having put on the readiness given by the gospel of peace. 16 In all circumstances take up the shield of faith, with which you can extinguish all the flaming darts of the evil one; 17 and take the helmet of salvation, and the sword of the Spirit, which is the word of God,
Please follow and like us:
To all you moms, we wish you a happy mother's day. So, where does the apostrophe go, before or after the "s"? Is it "mother's day" as in each single mother, or "mothers' day" belonging to all mothers as a group? I opt for the former.
On this Mother's day, 3 of our newer children will be dedicated: Andy Walker, Abilene Willard, and Jedediah Clarke.
Our Scriptures for the day are:
Psalm 98
Acts 10:44-48
1 John 5:1-6
John 15:9-17
Sermon will be from Ephesians 4:4-6
4 There is one body and one Spirit—just as you were called to the one hope that belongs to your call— 5 one Lord, one faith, one baptism, 6 one God and Father of all, who is over all and through all and in all. 7 But grace was given to each one of us according to the measure of Christ's gift.
Please follow and like us: