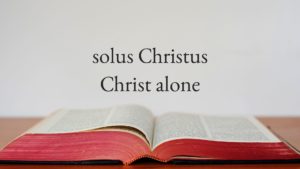 From the website: Monergism. Much more here.
"This office of mediator between God and man is proper only to Christ, who is the prophet, priest, and king of the church of God; and may not be either in whole, or any part thereof, transferred from him to any other." – London Baptist Confession
Christ alone (Solus Christus, Solo Christo), is one of the five Solas of the Reformation. It emphasizes that the death and resurrection of Jesus Christ is not only necessary for salvation but sufficient to save to the uttermost. That no amount of human works or merit can contribute to Christ's finished priestly work. Christ's all-sufficiency means, by implication, that we are insufficient of ourselves. Indeed the Scripture says "Not that we are adequate in ourselves to consider anything as coming from ourselves, but our adequacy is from God." (2 Corinthians 3:5) read more
Sometimes the most important things in the Christian life can be the most difficult.
That can certainly be true of understanding and applying the Bible.
As believers we know that reading Scripture is essential to following Jesus. But if we're honest, we often find it difficult to understand and apply. The Bible talks about so many different things; how do we know what to focus on? It's set in a world very different from ours; how do we apply it to our lives today?
One simple and effective tool is asking good questions. The questions we ask when we read the Bible largely determine how we understand and apply the Bible. So we need to make sure we are asking the right questions, the kind of questions the Bible was designed to answer. But how do we know what those questions are? read more