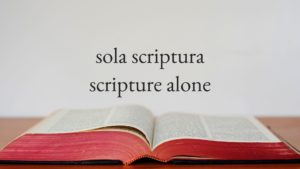 The Sufficiency of Scripture: from 9Marks Ministry
The doctrine of the sufficiency of Scripture lies at the heart of what it means to be a Protestant. Protestantism and Roman Catholicism share much in common in terms of basic theology, such as a commitment to the doctrines of the Trinity and the Incarnation. When it comes to matters of authority, however, there are major divergences. One of these is on the matter of Scripture: is Scripture sufficient as an authority for the church or not?
Scriptural sufficiency is, of course, a doctrine that stands in positive connection to a number of other theological convictions, such as inerrancy, the extent of the canon, and the perspicuity or clarity of Scripture. All of these help to shape our understanding of sufficiency but are beyond the scope of this brief article. Thus, I will focus on the doctrine as generally understood by those who accept the Protestant confessional consensus on these matters, as reflected in the Second London Confession, the Three Forms of Unity, and the Westminster Standards. read more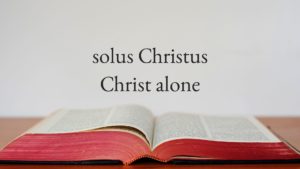 From the website: Monergism. Much more here.
"This office of mediator between God and man is proper only to Christ, who is the prophet, priest, and king of the church of God; and may not be either in whole, or any part thereof, transferred from him to any other." – London Baptist Confession
Christ alone (Solus Christus, Solo Christo), is one of the five Solas of the Reformation. It emphasizes that the death and resurrection of Jesus Christ is not only necessary for salvation but sufficient to save to the uttermost. That no amount of human works or merit can contribute to Christ's finished priestly work. Christ's all-sufficiency means, by implication, that we are insufficient of ourselves. Indeed the Scripture says "Not that we are adequate in ourselves to consider anything as coming from ourselves, but our adequacy is from God." (2 Corinthians 3:5) read more