"But I wish here to expose the folly of all those who talk in a loose and general way about God's mercy. Men will often say, when urged to think about their salvation, "Indeed I know I am not what I should be; I have broken God's law very often, but He is very merciful, and I hope I shall be forgiven." Truly, I do believe that the religion of many goes no further than this. This is the only point they can lay hold of; this is the only rock on which they build: press them for a reason of their hope, and there is no answer; ask them to explain the ground of their confidence, and they cannot do it. "God is merciful" is the Alpha and the Omega, the beginning and the end, the first and the last, of all their Christianity. Now, I am bold to say, beloved, this is an immense delusion; a refuge of lies that will not stand being compared with Scripture, and, more than this, it will not last one instant in the fire of trial and affliction.
Have you not ever heard that God is a God of perfect holiness—holy in His character, holy in His laws, holy in His dwelling-place? "Speak unto the children of Israel," says the Book of Leviticus, and say unto them. "Ye shall be holy; for I the Lord your God am holy." "He is a holy God," says Joshua; "He is a jealous God; He will not forgive your transgressions nor your sins." "Thou art of purer eyes than to behold evils, and canst not look on iniquity," says Habakkuk. "Without holiness no man shall see the Lord." And the book of Revelation, speaking of heaven, says, "There shall in no wise enter into it anything that defileth." "It shall be called the way of holiness," says Isaiah; "the unclean shall not pass over it." And will you tell us, in the face of all these texts, that man, corrupt, impure, defiled—as the best of us most surely is—shall pass the fiery judgment of our God and enter into the heavenly Jerusalem by simply trusting in the mercy of his Maker, without one single rag to cover his iniquities and hide his natural uncleanness. It cannot be: God's mercy and God's holiness must needs be reconciled, and you have not dlone this yet.
And have you never heard that God is a God of perfect justice, whose laws may not be broken without punishment, whose commandments must be fulfilled on pain of death? "All His ways are judgment," says the book of Deuteronomy; "a God of truth and p 83 without iniquity, just and right is He." "Justice and judgment are the habitation of Thy throne," says David. "The just Lord is in the midst," says Zephaniah; "He will not do iniquity: every morning doth He bring His judgment to light; He faileth not." "Think not that I am come to destroy the law or the prophets," said Jesus: "I am not come to destroy, but to fulfil. For verily I say unto you, Till heaven and earth pass, one jot or one tittle shall in no wise pass from the law till all be fulfilled." I cannot find that these verses have ever been declared useless; I cannot discover any place which says the law is now let down, and need not be fulfilled; and how, then, can I teach you that it is enough to look to God's mercy? I read of only two ways in the Bible: One is, to do the whole law yourself; the other is, to do it by another. Show me, if you can, one single text which teaches that a man may be saved without the claims of the law having been satisfied. An earthly prince, indeed, may forgive and pass over men's transgressions; but God never changes. "Hath He spoken, and shall He not make it good?" I tell you, then, God's mercy and God's justice must be reconciled; and this you have not done yet."
Please follow and like us:
"A man who wore no clothes, lived in the tombs among the dead, and had a long rap sheet hardly seems like a good candidate to be the first to preach the news in this territory awash in paganism. He was a multiple offender whom the authorities had at long last given up trying even to restrain. But like Mary Magdalene, who had been delivered from seven demons (8:2), he was redeemed from his condition by Jesus' powerful word and restored to wholeness.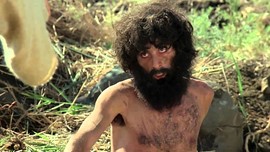 It has happened to many whose condition is not quite so obvious or public. C. S. Lewis describes his condition before his conversion as 'a zoo of lusts, a bedlam of ambitions, a nursery of fears, a harem of fondled hatreds. My name was legion.' Using the imagery of the parable of the soils in the previous unit would seem to suggest that persons such as these are hardened, unproductive soil to hear the Word of God and not worth wasting seed by sowing it among them. But the power of God's Word can transform even this kind of soil. It can bring salvation, deliverance from the legion of personal demons that assail individuals, and transform the person into a productive proclaimer of the gospel.
The problem is that Christians might tend to avoid the dark haunts where these lost and desperate people may gather. Their scary behavior, as a result of years of maltreatment at the hands of others and their own self-abuse, may make them seem irredeemable, and so they never hear the message of salvation. Jesus is prepared not only to use anyone committed to him to proclaim the gospel, but he is also ready to go anywhere to proclaim it. The whole world, not a small portion of it, needs to be restored to wholeness.
Garland, David E. Luke. Zondervan Exegetical Commentary on the New Testament: Grand Rapids, MI: Zondervan, 2012.
Please follow and like us: