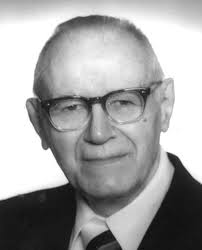 "The final question is, "
'Have I learned the art of offensive warfare?' We have been studying those weapons that are generally included under the heading defensive armor. We have seen, however, that though in physical warfare this description may be entirely adequate, in spiritual combat it hardly reaches far enough. Even truthfulness or integrity—the belt—is not exclusively defensive. It captivates! Righteousness—the breastplate—not only serves as a protection; it also wins the neighbor for Christ, that God may be glorified (Matt. 5:16). The peace that provides readiness for the spiritual battle—the shoes—furnishes both time and energy for invading the enemy's domain and robbing him of the spoils he has taken. Faith—the shield—overcomes the world, recapturing the lost. And salvation—the helmet—sings its way into the enemy's prison-camp, setting the prisoners free. But although all this is undoubtedly true, nevertheless, the most conspicuously offensive weapon, offensive both in physical and spiritual combat, is certainly the sword. Says Paul: '(and take) the sword of the Spirit which is the word of God.'"

William Hendriksen and Simon J. Kistemaker, Exposition of Ephesians, vol. 7, New Testament Commentary (Grand Rapids: Baker Book House, 1953–2001), 279.
Ephesians 6:14–17 (ESV)
14 Stand therefore, having fastened on the belt of truth, and having put on the breastplate of righteousness, 15 and, as shoes for your feet, having put on the readiness given by the gospel of peace. 16 In all circumstances take up the shield of faith, with which you can extinguish all the flaming darts of the evil one; 17 and take the helmet of salvation, and the sword of the Spirit, which is the word of God,
First of all, thanks to all who helped get the landscaping improved today. It looks great, and we had great weather for it. Two trips to the dump (trailer full + stuff in the van) means that things look pretty cleaned up, and the old kitchen cupboards are gone.
20 years ago, Jerry M. and I installed that kitchen–it was an Ikea floor model that they sold off in auction. We wanted simple white, and while the really fancy kitchens had higher bids, we got the whole thing for $1100. Problem was, it was all metric, and Ikea was getting out of the metric kitchen sizes. So we installed the metric on one side of the kitchen, and when we needed more cabinets, non-metric was installed on the other side. At any rate, it's all gone now. They weren't made for the extreme use in a daycare and church setting, and were getting pretty rough.
I saw Aunt Dorothy this evening, and she may get to return to her home tomorrow! She is very happy about that–please pray for her.
Tomorrow I will be preaching Ephesians 4:1-3, a decidedly more "practical" text, but remember, God's Word is always "practical," because truth is practical:
1 I therefore, a prisoner for the Lord, urge you to walk in a manner worthy of the calling to which you have been called, 2 with all humility and gentleness, with patience, bearing with one another in love, 3 eager to maintain the unity of the Spirit in the bond of peace. Ephesians 4:1–3 (ESV)
 Scriptures tomorrow:
Psalm 22:25-31
Acts 8:26-40
1 John 4:7-21
John 15:1-8