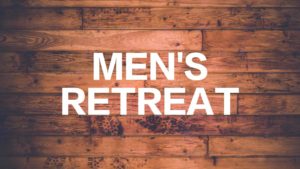 Mark your calendars for the 2018 Men's Retreat at Ontario Christian Assembly. This is the first Men's retreat sponsored by OCA for a number of years, and we have an exciting lineup planned.
Full details in the graphic below or link to the event page on Facebook here.
Registration is online and available here.
Please follow and like us: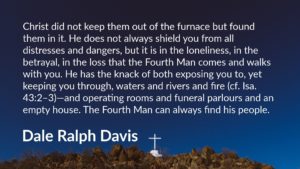 "Christ did not keep them out of the furnace but found them in it. He does not always shield you from all distresses and dangers, but it is in the loneliness, in the betrayal, in the loss that the Fourth Man comes and walks with you. He has the knack of both exposing you to, yet keeping you through, waters and rivers and fire (cf. Isa. 43:2–3)—and operating rooms and funeral parlours and an empty house. The Fourth Man can always find his people."
Dale Ralph Davis, The Message of Daniel: His Kingdom Cannot Fail, ed. Alec Motyer and Derek Tidball, The Bible Speaks Today (Nottingham, England: Inter-Varsity Press, 2013), 58.
Please follow and like us: