Monthly Archives:
October 2017
"If God spare my life ere many years, I will cause a boy that driveth the plow, shall know more of the Scripture than thou dost."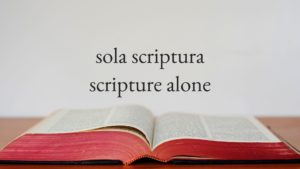 The Sufficiency of Scripture: from 9Marks Ministry
The doctrine of the sufficiency of Scripture lies at the heart of what it means to be a Protestant. Protestantism and Roman Catholicism share much in common in terms of basic theology, such as a commitment to the doctrines of the Trinity and the Incarnation. When it comes to matters of authority, however, there are major divergences. One of these is on the matter of Scripture: is Scripture sufficient as an authority for the church or not?
Scriptural sufficiency is, of course, a doctrine that stands in positive connection to a number of other theological convictions, such as inerrancy, the extent of the canon, and the perspicuity or clarity of Scripture. All of these help to shape our understanding of sufficiency but are beyond the scope of this brief article. Thus, I will focus on the doctrine as generally understood by those who accept the Protestant confessional consensus on these matters, as reflected in the Second London Confession, the Three Forms of Unity, and the Westminster Standards. read more